Located in the Wagoner Industrial Park, near
downtown Wagon er Oklahoma, OCB is just 45
minutes from the Tulsa International Airport.
Our company is a . . .
OCB specializes in the art of media blasting
on all types of surfaces. Regardless of whether
or not your project includes . . .

OCB has a new plasma cutting machine.
Watch video . . .


We are certified and have the equipment
and expertise to apply . . .


To see more of what we can do, just click on
the Break Away Vans or you can
visit breakawayvanco.com . . .

To see more of what we do click on
Additional Photos to take you to our
facebook page.
- Surface Preparation -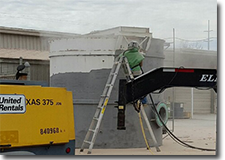 SURFACES
There are numerous types of substrates such as:
Steel
Auminum
Galvanized Metal
Glass
Wood
Plastic
Concrete
Masonry Surfaces
that we can
Sand Blast
Scarify
Grind
High Pressure Water Blast
Depending on the specification of the project and desired profile
the customer is looking for, we have several different media options
to choose from. While our most commonly used material is sand,
we do have the ability to use:
Sand
Steel
Grit
Steel Shot
Glass Beads
Plastic Beads
Garnet
Walnut Shells
Depending on how delicate or rough the surface is and the type of finish required,
we can remove:
Rust
Mil Scale
Paint
Powder Coatings
Grease
Most other unwanted surface coatings and contaminates
NACE standards for metal surfaces:
Other services include marine anti-foul removal, hull cleaning and graffiti removal as well as statue and stonework restoration.